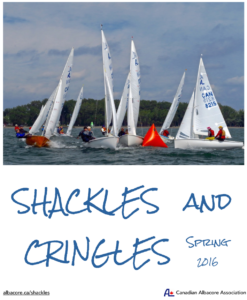 Tannis Baker, editor of Shackles & Cringles, has just released the latest edition of the CAA's own magazine!
In this issue:
The Quest for a New Builder, on the hunt for an Albacore manufacturer and potential design modifications, by George Carter.
Breaking Through to Success, by Robbin Coeddy.
Mast and Boom Manufacturing, by Barney Harris.
Joining the Albacore Family, by Jamie Stanley.
Race Management 101, by Steve Goode.
Ontario Championship recap from winning helm Darren Monster.
plus info on RAW FISH and RaceQS, and more!
Get it now, and catch up on previous issues, at albacore.ca/shackles.