March 4, 2020
From "Scuttlebutt"
Feb 18, 2020
https://www.saltwire.com/lifestyles/local-lifestyles/shelburne-harbour-yacht-club-receiving-sail-canada-award-for-regatta-of-the-year-412538/
November 20, 2019
https://www.thecoastguard.ca/sports/local-sports/albacore-internationals-named-regatta-of-the-year-by-sail-ns-378346/
August 30, 2019
August 31, 2019
Yachts & Yachting Article by Pauline Rook
https://www.yachtsandyachting.com/news/221532/Albacore-Internationals-at-Shelburne-overall?fbclid=IwAR2BsdkB-glH42T0BoD3VV0ZiIVzao1XUqsCiH8cjPJkYZqV5pWtoRW464o
---
August 28, 2019
---
August 27, 2019
---
August 26, 2019
https://www.thecoastguard.ca/sports/international-albacore-championship-underway-in-shelburne-345281/
---
August 26, 2019
August 25, 2019
August 24, 2019
---
August 21, 2019
July 13, 2019:
February 27, 2019
SHELBURNE, N.S. —
The Shelburne Harbour Yacht Club will be welcoming the world this summer for the 2019 Albacore International Championship Regatta.
At least 50 teams from throughout North America and Europe are expected to compete in the event, scheduled to run from Aug. 24 to 30.

Link to the full news article in the Tri-County Vanguard:
https://www.thevanguard.ca/sports/funding-announcement-propels-enthusiasm-shelburne-harbour-yacht-club-welcoming-the-world-with-international-albacore-regatta-in-2019-287531/
---
February 23, 2019
Shelburne, NS: The Honourable Bernadette Jordan Minister of Rural Economic Development and Member of Parliament for South Shore – St. Margarets on behalf of the Atlantic Canada Opportunities Agency (ACOA) announced today that ACOA is providing funding in support of the 2019 Albacore International Championship in the amount of $69,917. This funding is earmarked for infrastructure improvements in advance of the championship which is scheduled to take place August 24-31, 2019.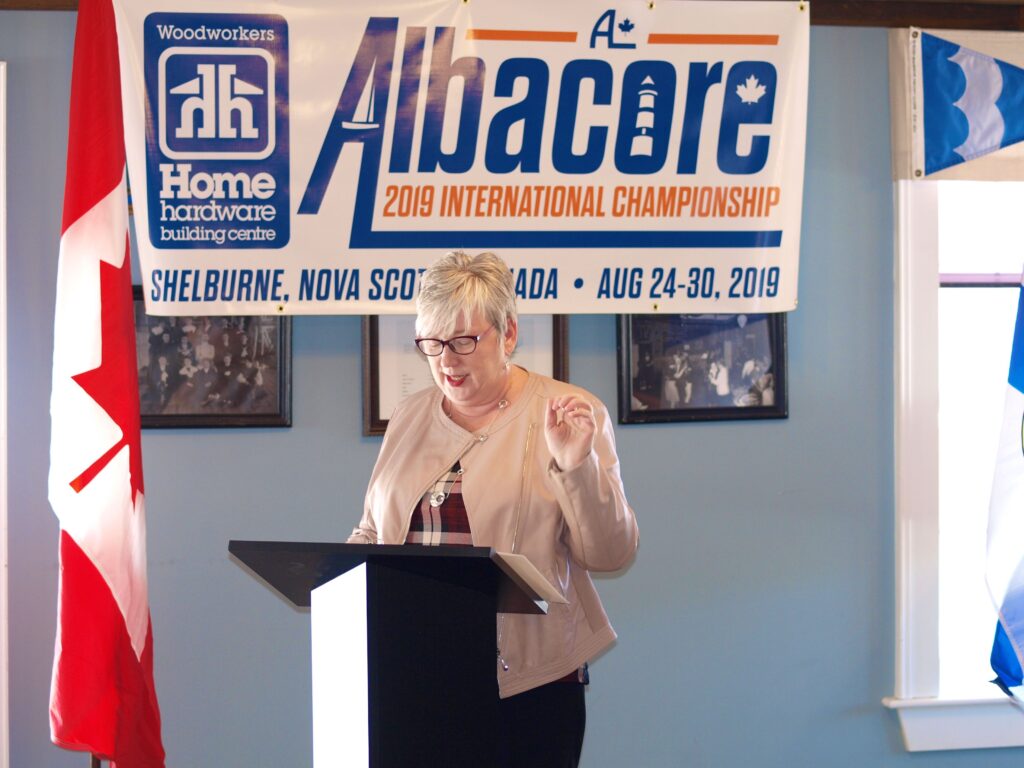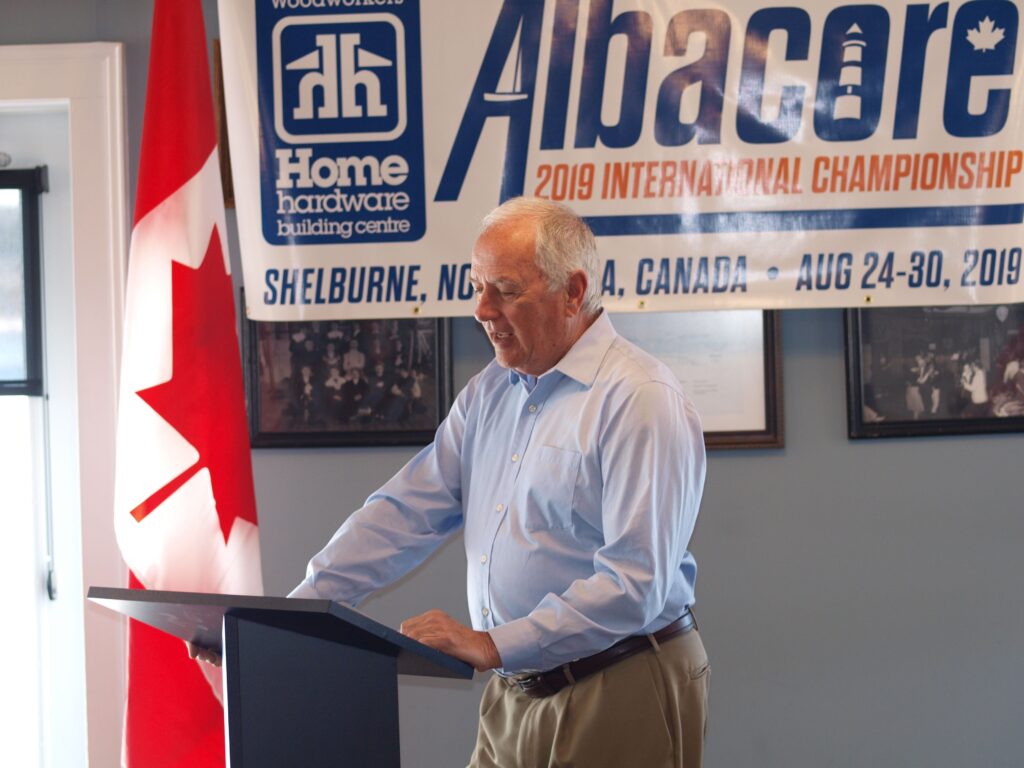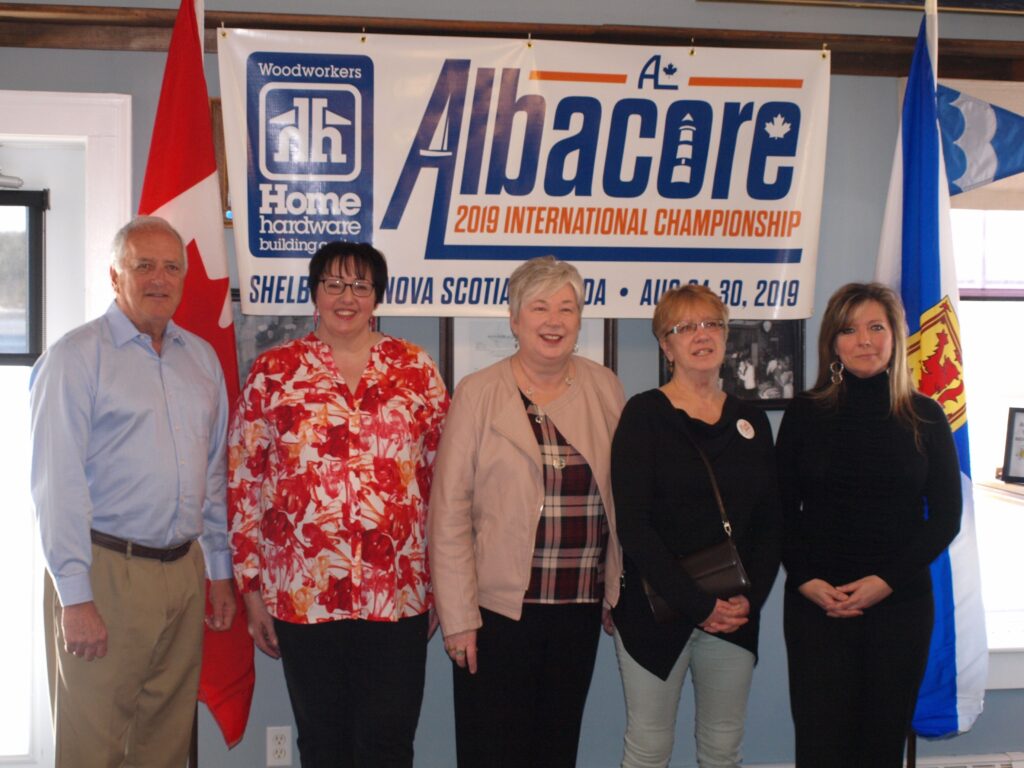 ---
February 14, 2019
Shelburne Internationals Organizing Committee Announces Title Sponsor
Shelburne, NS: The Shelburne Internationals Organizing Committee, the group responsible for organizing the 2019 Albacore International Championship, announced today that Woodworkers Home Hardware Building Centre of Shelburne NS has been named the title sponsor for the event.
Dave Atkinson, president of Woorworkers Home Hardware Building Centre: "Woodworkers Home Hardware has always been a community minded business and we feel honoured to be the major sponsor of the event. This event will bring many new people and sailors to our community. It will showcase our community and show the international sailing world what a beautiful, great town we have and how warm and friendly we are. A wonderful way to put Shelburne on the map."
Lead Organizer Henry Pedro: " I and the organizing committee feel very grateful to Mr. Atkinson and his team at Woodworkers Home Hardware. I believe that the Woodworkers team will bring a lot of positive energy to the event, and their contribution will enhance the ability of the organizing committee to put its best foot forward."
As a result of their title sponsorship, Woodworkers Home Hardware Building Centre imagery will be shown on all promotional materials for the 2019 Albacore International Championship.
The Albacore sailboat is a 15 foot long sailing dinghy that is typically sailed by teams of two athletes. It was developed in the UK in the 1950s by Uffa Fox and has been updated numerous times while keeping its basic design intact. It is widely sailed in two continents by youth and adults alike.