Big Regattas coming up - the Albacore Internationals are about to begin in Weymouth UK, the North Americans are at Kingston Yacht Club Aug 26/27 and Nepean Sailing Club is hosting the Canadians Sept 22-24!!

Thank you to Bill Shore for the beautiful pic used in the Masthead of this post. Don't forget to subscribe!
Being brought up in the UK, team racing has always been a significant part of my sailing 'career'. Weekends at university were spent visiting other colleges and the highlight of the year was inevitably the Wilson Trophy (think the 'world cup' of team racing).
Interest in team racing has been increasing around Lake Ontario with weekly training taking place at the Toronto Outer Harbour sailing clubs on a Thursday evening.
Below is a brief overview for those of you who are new to the idea.
How does it work?
To be good at team racing it is important to know all the rules- it is not just about who is first to the mark. This is one of the main reasons I love team racing, you get a chance to play with the rules- 'messing' other teams up on the start line, stopping boats from rounding marks; and you need to work as a team to be victorious.
Similar to fleet racing, team racing is won by the team with the lowest points at the end of the race.
Most commonly there are 3 boats per team, meaning a total of 6 boats on the water, and therefore 21 points on offer. A team must obtain 10 points or less to win!
The following combinations will lead to your boat winning:
Winning Combinations:
1-2-any position
1-3-any position
1-4-5
2-3-4
2-3-5
Combinations can be seen as 'strong' or 'weak' depending on how easy it would be for the opponent team to convert. 1-2-3 is, obviously, the most 'strong' with the winning team having to just 'sail fast' in order to secure their victory.
2-3-5 can be seen to be 'weak' as the opponents can attack backwards the boat in 5th position, converting their losing combination to a winning one (1-4-5).
What is the course?
In my experience, team racing has always been carried out in a starboard S (shown below) although the box course is popular in Ontario: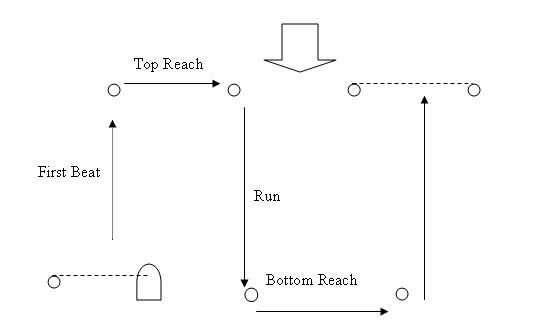 Races are typically only 10 minutes long so each leg is fast and furious, allowing opportunities for the teams to launch 'attacks' and 'plays'.
Starting setup is just 3 minutes. Teams must use this time, not only to line up for their 'perfect start' (with each team member taking a different role – pin, middle, starboard to ensure all possible shifts are covered),  but to disrupt the other team as much as possible.
Tactics
Team racing is all about tactics and boat handling. Boats must work together to 'block' boats at marks, to cover and convert. A lot of moves are carried out at the marks with mark traps being a common tactic.
A mark trap involves slowing an opponent down enough at a mark so one of your teammate can overtake you both. On a windward mark trap the idea is that you slow down, or stop, on the starboard lay line within two boat lengths of the mark – at this point no-one has room between the mark and yourself.
If the opponent approaches from starboard and windward, you can luff them up – slowing them down; if from leeward you can 'close the door' and stop them from rounding.
You can 'mess' with an opponent coming from port by forcing them to avoid you and slowing them around the mark.
It is hoped that any of these moves will give your team member sufficient time to catch up and overtake.
[Ed: Click here for a video, tweeted by Oakham Sailing School, that illustrates a mark trap.]
Being so tactical, team racing is fun and challenging as it becomes more about team work rather than your own personal result. And, it can help you build skills that will improve your fleet racing as well.
Keen on getting involved?
I for one am very excited that team racing is starting to gain momentum in Ontario. If team racing sounds like something you would be interested in trying out, feel free to reach out to your club.