Our decision to join The Albacore Canadian Championship 'B' Fleet was a bit "ad hoc". I have been sailing for most of my life and Agata has a few years under her belt. Yet, neither of us has had much Albacore racing experience and the Canadians were going to be our second time sailing together, ever. We sized up the competition honestly and realized that most of them have been teamed up for years. Meanwhile Agata and I had maybe 4 hours of sailing experience together before the event. We still had not mastered gybes or how to prevent Agata from getting launched around the boat when I rolled it. We looked each other square in the eye and admitted our struggles. We also took a look at the B Fleet competition, and there were some great sailors! Our decision was made. We decided to work on our sailing individually and as a team and were happy to give it our best. Here is our recap of the three days on the water.
Day 1
Day one was mostly light air, racing on the south side of the Leslie Street Spit. This location was not usual to us as it is quite far away from the Outer Harbour clubs. I was surprised to learn that there was a current worth considering out there. Both the wind and current were flowing from east to west (more or less). So head to shallow water for less current going upwind, and into the deep water to have the current push you downwind. We went downwind with more board that usual, and it worked! We passed people. Unfortunately, we were plagued with a bad start or two, and we hit the windward mark on two of the three races. But, for B Fleet, still a Winning Day!
Day 2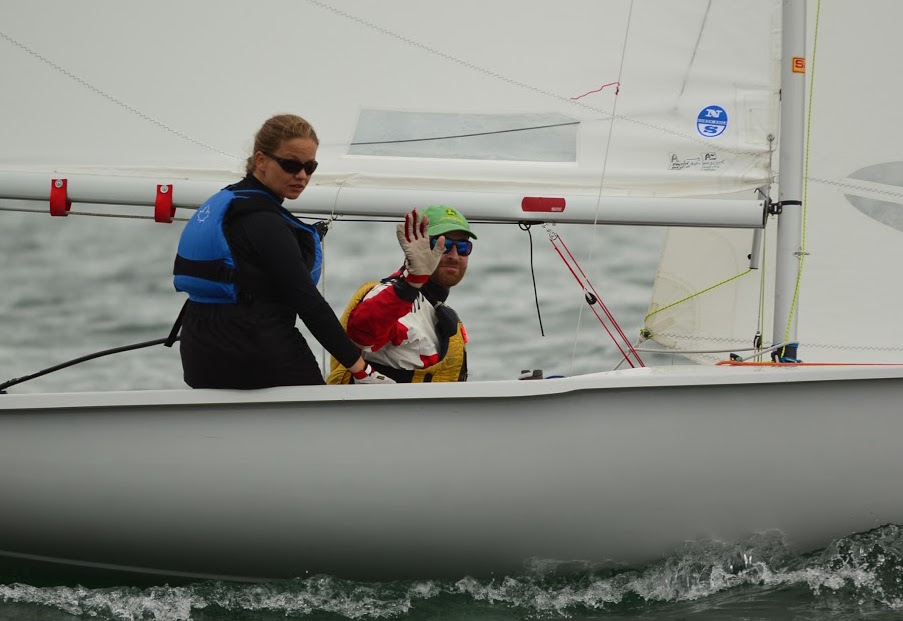 Day two started off wet and groggy. The festivities from the night before seemed to be slowing my enthusiasm for getting out on the water. Luckily Agata seemed to be unaffected. The forecast for the day was calling for thunderstorms, so the race committee kept us closer to shore and sailing was to be held just south of the Toronto Islands. We had spoken about switching, and Agata drove us out to the course, so it seemed logical to have her helm the first race of the day. The wind cranked up, we moved the pins down and it seemed Agata could get the main in enough to keep me hiked out. I pushed the limits of her hands "head up and sheet in" I recall saying, "I can't" she'd respond. There was a lot of groaning and a few yelps coming from the helm position during that race. Other boats capsized, but we didn't! Not even when Agata dropped the tiller during a leeward mark rounding! Race 4 turned out to be our best result overall! We switched back after the race. We were going to practice a high wind gybe, and boom – capsize! The wind lightened up but the waves were still choppy. We failed to re-tune the boat. The following races were not very good. I should have stayed in the front of the boat.
Day 3
Light wind but a beautiful sunny forecast. Off we went to the race course south of the Leslie Spit. The fleet seemed to be slow moving this day. I blame Darren Monster for making sure we all had a good time the night before. There was enough wind to get us out there, but it became horribly light and inconsistent in direction. The race committee abandoned one of the races right after the start as a huge shift had occurred. They managed to get another race started, this time it was upwind with the current and downwind into it. I knew the sailing was going to be painful, but the weather was nice! The wind shut off during the first downwind, the race committee moved to shorten the race. There we were healing the boat to windward, going downwind into the current. I was focused on keeping our sails full of wind, and not getting covered from a boat behind. In short I wasn't watching what Agata was doing until I had heard that shriek from the day before. I look over to see her feet had slipped out of the hiking straps and into the water she'd gone with a "plunk". I burst out in laughter and so did she. Calmly I went to her side of the boat and pulled her back in, nearly placing her back into the crew position. I was too busy laughing the rest of the race, but I don't think we lost a position, (nor did we gain one).
Sailing with Agata in the 2016 Canadians taught me that I have a lot to learn to get myself into the top 10, the whole mast ram, pre-bend, rig tension, boom-vang interconnection needs to be demystified. Practice is a huge component to performing well as a team, along with researching common conditions for a race location before the race! Who knew that current on Lake Ontario could be such a factor! That being said I had a great weekend, I'm just sad that I can't do B Fleet again!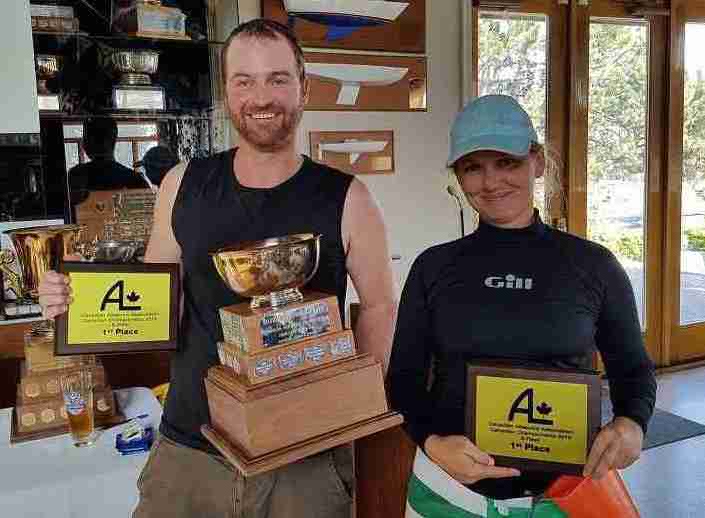 Hi Shackles Readers!

Check out George Carter's article for his take on the 2016 Canadians, expert advice on trimming your mainsail and some great pics of Day 2 taken by Laura Hetherington.

We hope to publish just frequently enough that we stay current and you stay tuned but posts will be infrequent over the winter. Please subscribe to make sure you hear about each post.

And don't forget to check out the rest of the site for news about Events and Raw Fish video footage.